I am absolutely delighted.
Taihen ureshiku omoi masu.



taihen: absolutely
ureshiku: delighted


How boring!
I'm bored.
Taikutsu da!



taikutsu: boring


I'm disappointed.
Gakkari shita.



gakkari: disappointed


I'm disappointed in you.
You disappointed me.
You let me down.
Anata niwa hontou ni shitsubou shimashita.



anata: you
hontou ni: very

Kanji translation:
shitsubou: disappointed


I'm not in the mood.
Sonna ki niwa nare masen.



Kanji translation:
ki: mood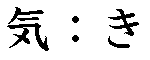 I am in despair.
Zetsubou-teki da.



Kanji translation:
zetsubou-teki: despair


I'm very glad to see you again.
Mata aete totemo ureshii desu.



mata: again
totemo: very
ureshii: glad

Kanji translation:
au: meet


I'm very glad that I passed the exam.
Shiken ni ukatte totemo ureshii.



totemo: very
ureshii: glad

Kanji translation:
shiken: exam



ukaru: pass